MLB
Oliver Marmol's "hands-on" offseason, from embracing St. Louis until the Cardinals disclosure
Oliver Marmol's "hands-on" offseason, from embracing St. Louis until the Cardinals disclosure
There have been sightings at a Blues game, in the arena for an SLU men's basketball game, and a true eagle-eyed birder might even have seen it inspecting the leaves and the changing flora of the Missouri Botanical Garden.
Cardinals manager Oliver Marmol has been seen around town since the end of his season because, after his first full season in the role, his family decided to call St. Louis home for the offseason. As they've explored the city, court to court to field and even stopped a few times to smell the roses, they've learned that when it comes to baseball in St. Louis there is no off season.
Even picking up dinner comes with an extra portion of commentary.
"You go to the pizzeria and you're like, 'We can't wait for the season to start,'" Marmol said. "Oh, it ended last week. You definitely feel it no matter where you go. This is the cool part. Look, losing in the playoffs (stink). The way we (could) lose, right? Every part of him. But the responsibility and the accountability, that's amazing. We didn't reach our goal and everyone feels that way."
At the same table he's been using for Zoom meetings and conferences for the past month, Marmol talked about his offseason so far and his plans for the offseason after the Cardinals' division title season ended with a quick exit from the playoffs.
Marmol finalized his staff, replacing former Cardinal and current Miami coach Skip Schumaker at bench coach with former Cardinal and recent Cardinals Hall of Famer Matt Holliday. The Cardinals promoted Dusty Blake to pitching coach and Turner Ward to hitting coach, and Marble already said they have plans to visit and work individually with the players in the coming months. Marmol will also hit the road, using St. Louis as a base to meet face to face with some players.
"Hands-on" approach.
Almost a year ago, recently and suddenly promoted to coach of the Cardinals, Marmol had only a few weeks to talk to the players before Major League Baseball's lockout eliminated all contact for 99 days. They didn't want to wait for a new one this offseason.
Marble used the phrase "hands-on" several times to describe the plans.
They will be "hands on" to retool Paul DeJong's swing.
They'll be "hands-on" to shape Genesis Cabrera's off-speed pitches.
"A hands-on approach this offseason is exciting," Marmol said.
Although Marble's "hands-on" offseason began by embracing St. Louis, an initial phase for pitchers and pitching coaches will be adopted from the suggested "pitch formation" and usage. Jake Woodford received similar instructions during the season as the Cardinals used data to reshape his slider — his usage, his pitch, his spin — for extended effectiveness. Now leading the coaching of the pitching staff, Blake brings that forward-thinking, analytical eye to fielding, and winter is ready to experiment with new shapes, reimagined sequences, or try new pitches that bloom in the spring.
Helping left-hander Cabrera rediscover his swing-and-miss execution is one example, as the team crunches the numbers to see if he needs another pitch, changes his infield break, or adjusts his use of his fastball.
"That's what this time is all about because there's no line at the end of the day that says (you failed) or you were good," Marmol said. "Let's build it."
That's DeJong's plan, too, as the Cardinals build him a swing overhaul at the Roger Dean Stadium facility in Jupiter, Florida. Ward will be present at some of them, at designated checkpoints, and at work, in person, with other beaters. The offseason also includes a player regimen for performance, strength, fitness and movement, such as workouts designed for Tyler O'Neill, Alec Burleson and others.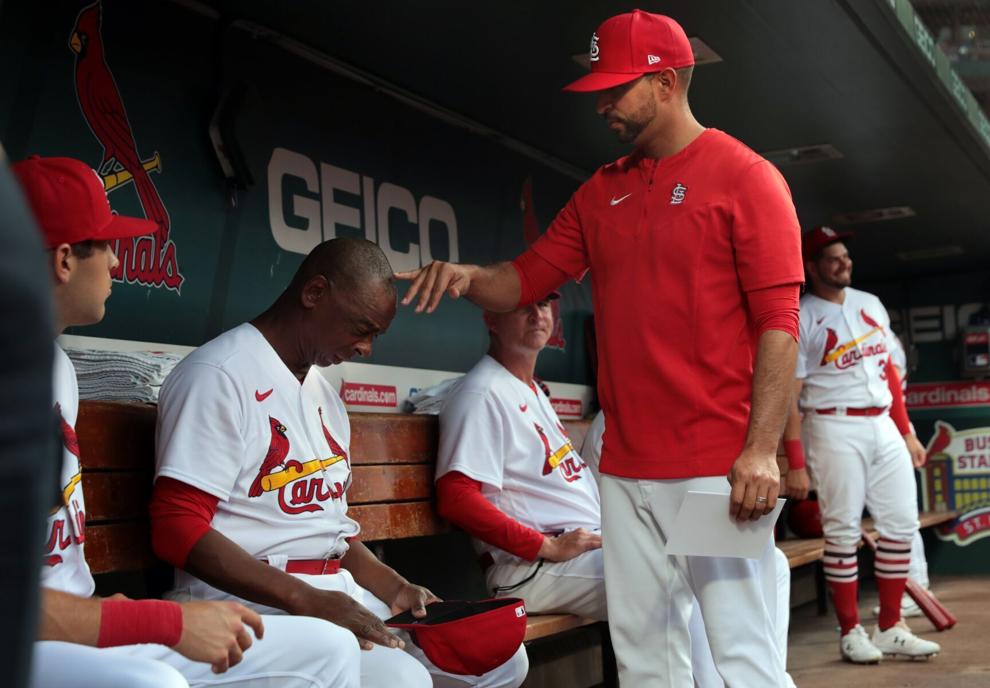 time to talk
Marmol is planning a speaking tour of sorts to reach younger players about the next phase of their careers as Brendan Donovan and Lars Nootbaar look to build on the success and deal with the greater expectations ahead.
"Yes, there's a baseline for skill, but a big separator at this level is how people approach the mental side of the game and a lot of that is instilling confidence and adversity and the foundation you have for how to handle both," Marmol. said "But how do you handle success? I don't think it gets talked about enough. Nootbaar was successful, right? Now he's going to have to do it again. How do you handle that? How do you carry Busch Stadium knowing you're good and saying, 'Hey, do it again."
Those were the kinds of conversations he didn't get to have last winter during the lockout, and when his first spring training started at warp speed, there wasn't much time for them.
This winter, practice includes outreach.
"I think it's important to set expectations for certain guys, and it's better to do it face-to-face so they understand how real it is, how real our belief is in what they're capable of doing," Marmol said. "I want them to understand what we think is possible for them, and I think that's always helpful face-to-face, especially to instill confidence in the younger guys we're getting ready to count on. (Going to see them) is important , a little more than (saying) "You're important to what we're doing, and I need you to want to be here."
Being there, knowing someone where they are, was part of the reason the Marmols, Oli and Amber, his wife, stayed home after the season and didn't return to their home in Florida.
During the season, they discovered places that delighted their two young daughters and made time to explore St. Louis, from revisiting the Magic House to seeing the Missouri Botanical Gardens on Shaw Boulevard. They wanted to join the sports scene, sit in the seats of another team.
Amber said "the changing leaves, the cooler weather, the pumpkin patches" were attractive to a family of Florida kids.
They decorated pumpkins and Amber and Oli got their carvings. Oli's was the silhouette of an owl.
"We wanted to plant roots somewhere, get involved in the community," Oli said. "It is an important role, the one we have. You want to get involved in the community and make an impact and be part of the city you are managing. I think if you bounce back to Florida, you're missing out on this great opportunity to get involved with this work and contribute something to the community."
And he had the opportunity to feel, to live what he felt.
That's what Paul Goldschmidt described last week after winning the National League MVP award. His family also decided to start the offseason in St. Louis, and described what the Cardinals' baseball tradition and success mean to the region, using a notable pronoun: "This is something we don't take lightly in St. Louis."
Before his first home game as a manager, Marmol told the story of being awakened that morning by a cardinal (lowercase c, with feathers) at his window, a particularly strong and persistent cardinal. He swore it was true. Last week, Marmol briefly walked away from an interview, and as this reporter waited, a red bird landed on a deckchair just outside the nearest window. He offered no comment other than his presence. Just another cardinal show.
Even out of season, they are still present.
"If the city was okay with what happened, how our season ended, but it's not," Marmol said. "Let's be very clear: the end (stinks). You feel that responsibility. You feel that responsibility for not making it to the last game of the World Series. If I didn't have to answer these questions, I don't think I would. It's what gets me up in the morning. That becomes part of the motivation."




#Oliver #Marmols #handson #offseason #embracing #Louis #Cardinals #disclosure